Pattern: The Hottest Trend in Decorating Today
Ahh pattern – it's a toughie for me at least. Don't have enough of it at home and veer away from it which is weird because pattern really is the 5-minute face-lift of the decorating world. It instantly perks up a room and steals the limelight like nothing else. Well that's all about to change.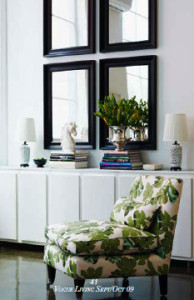 My dear friend Lisa Whatmough of Squint made me one of her fabulous mirrors to cheer me up when Molly my fox terrier died and it's completely transformed my downstairs space. In so doing I have decided to come out of my plain Jayne shell (I mean one can only have so many chairs and sofas upholstered in velvet, or mohair or slubby wool) and I'm now fully into embracing pattern big time.
The pros like Lisa fuse with aplomb – see her fabulous pieces by clicking on her website Squint Limited. The key thing like everything else in the interior world is to have confidence and follow your heart. You can start small by pumping up the interest in a room by bringing it to life with a cool collection of cushions with a whole fusion of different patterns. Or you can go straight in at the deep end and opt for a sofas, chairs, tables, rugs and mirrors the list is endless. With a pinch of creativity you can turn your pad into an Aladdin's cave of gorgeousness.
Reference: Abigail Ahern's Blog